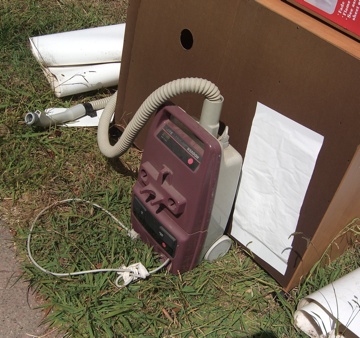 Another in an occasional series on the orphan vacuums of Berkeley. In these parts, this seems to be the most often abandoned home appliance. Every so often you encounter a microwave oven or iron left out on the street, and unwanted computer monitors are regular curbside finds, too. But vacuums keep turning up. This one graced the streetside lawn strip along Monterey Avenue not too long ago.
As with some previous finds, this specimen hails from the Hoover clan of fine vacuums. Hoover, hailing from the days when the United States was, no doubt, a world center of vacuum cleaner manufacturing. Cogitating on the picture, I wondered whether anyone keeps statistics on cast-off appliances–how many household machines and helpers large and small wind up in landfills every year? I looked briefly and found nothing. My mind then turned to vacuum cleaner production. Someone must keep track of vacuum cleaner manufacturing here and abroad.
Oh, do they.
"Household Vacuum Cleaner Manufacturing" has its own category number in the U.S. Census Bureau's North American Industry Classification System (it's 335212, if you want a truly arcane fact to trot out over cocktails). The category includes manufacturers of regular old electric vacuum cleaners (canister, upright, or handheld) as well as central vacuuming systems, floor scrubbing and shampooing machines, floor waxers and polishers, and electric sweepers. Unfortunately, the most current public Census numbers on U.S. vacuum cleaner manufacturing are from 2002. Back then, there were 10,400 workers engaged in the industry, and total vacuum cleaner shipments that year were $2.6 billion. (Be patient–I'm going somewhere with this.) The industry was essentially flat from the previous year for which a snapshot is given, 1997.
It won't surprise you too much to find out that vacuum cleaners are also made outside the United States. The U.N. actually maintains an online database of worldwide vacuum cleaner manufacturing for the years 1995-2005, featuring such powerhouse producers as Belarus (which put out 6,600 units in 1995 and just 2,200 in 2005), Bulgaria (which apparently hasn't produced a vacuum cleaner since 2000), and Chile (production in 1995: 257,000; production in 2005: 0). Iran made 257.000 vacuums in 1997 and just 200 in '04 (wouldn't you like to see the inside of that factory?).
So who makes all the vacuums? In no particular order, Japan, Korea, Germany, Italy and France make millions of machines a year. Having mostly apples and oranges statistics, it's hard to rank those against the United States, though the value of U.S. vacuum shipments appears to be far higher than those of any country in that group; 10 times as much as Italy's, for instance, and five times as much as Germany's. Based on how many vacuums those countries, shipped, one might guess that the U.S. was producing 30-35 million vacuums in 2002. Just a guess.
One country I haven't mentioned is the one that looms largest in our modern industrial world: China. According to the U.N. numbers, China produced 10 million vacuums in 2000; that looks to be far behind where the United States was. In 2004, the number was 50 million, almost certainly far ahead of the U.S., at least in unit volume. So the takeaway for this edition of the Vacuum Chronicles is that while those discards on the street today have a pretty good chance of having been made in the U.S.A., the next generation or orphan vacuums will likely have begun life far, far away.