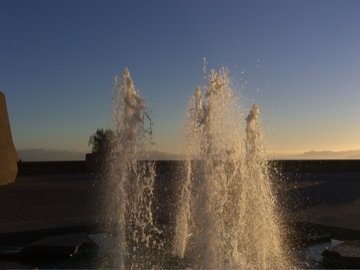 Tuesday, my friend Pete showed up from Portland. We went for a walk from our place in the North Berkeley flats, elevation about 120 feet above sea level, up to one of the ridges immediately above Grizzly Peak Boulevard but still inside the city limits, about 1,200 feet in elevation. On the way up Shasta Road, we spotted a pretty well-hidden (though marked) public path that cuts across a sizable loop as the street climbs toward Grizzly Peak (for local reference: between Sterling Avenue and Miller Avenue; picture from the top of the path is below). We took the shortcut, which seems to go right through several private yards ("Dad, the party crashers are out in the yard again!").
The air was pristine Monday, a little less so Tuesday, but still bright and clear. We walked down to the Lawrence Hall of Science in search of a water fountain and didn't find any that worked; there's a nice fountain up there, though (above). The sun set as we walked down to Shattuck Avenue, where we finally found water — in the restaurant where we ate dinner.
Tonight, the sky is smoky. I assumed the source was a big fire burning in the scrubby mountains southeast of San Jose, the Diablo Range, about 60 or 70 miles away. The smoke rolled across the sky early this afternoon, and it's thick enough this evening that you can see it in airplane landing lights as they head into Oakland and San Francisco. Checking the weather advisories, it turns out that the main source of the smoke up here is a fire about 250 miles from here in the northern Sierra. The blaze has got the best conflagration name of the summer: the Moonlight Fire (that link is worth checking — some amazing pictures).
Technorati Tags: berkeley