"24" is back. Despite past seasons of carping about it, I spent two hours in front of the tube tonight watching (well, less than two since we recorded it and blasted through the commercials). No less august a chronicler of important stuff than The New York Times saw fit to run three — three! — features on the new season since Friday. (The considerably less august San Francisco Chronicle had a big season-opener on Friday. The reviewer, TV critic Tim Goodman, botched one detail. He suggested episode one took 10 minutes before it headed off into unhinged crisis mode; in fact, it took much less time: The opening credits were still rolling when the first high-profile character — "former President David Palmer" — was dispatched by an assassin.)
The Times ran a piece today on Carlos Bernard (aka north suburban Chicagoland native Carlos Bernard Papierski), who plays Tony Almeida, the durable and always-dependable sidekick to Kiefer Sutherland's Jack Bauer. What he's loved for best in these parts, of course, is his display of a Cubs mug every season; he even drank beer out of it last season to dramatize how depressed he was with life as a disgraced counterterrorism agent. The mug showed up tonight in his very first scene in episode one, an hour that was kind of rough on him (13 minutes into the new season, mere minutes after brandishing the Cubs mug, his wife was killed by a car bomb. Tony/Carlos was badly injured in the blast).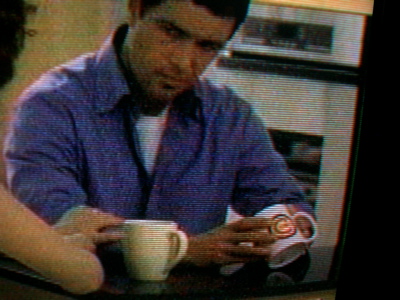 (Carlos Bernard/Tony Almeida in intimate Cubs mug moment.)
In other "24" news, the bad guys got things rolling in a big way. As usual, they're omnipotent. As usual, they love L.A. The terrorist scenario this year involves some pissed-off Russians who look to be staging a Beslan-style hostage incident at the airport in Ontario. It'll get really ridiculous soon — maybe even during the second two episodes, to be aired Monday. Thank goodness for the Cubs mug.
Technorati Tags: 24