I left my power cord back in Chicago, so I will keep this short. After a relaxed, not to say lazy, start of the day, we started rolling at 11. OK — that was kind of lazy.
Made our way out from the North Side out to through the western suburbs on Interstates 294 and 88. Got off of U.S. 30 to continue west at Rock Falls. Right there we had the only weather of the day, driving through a line of thunderstorms that apparently marked a cold front. It was much cooler and drier to the west — 74, for instance, in Morrison, Illinois — see above — where I stopped to check out the local grain elevator scene.
We stayed on U.S. 30 across the Mississippi, through Clinton, Iowa, and on to a hamlet called Calamus. A road sign pointed north to Lost Nation. I kept going, but pulled over half a mile on to consult an actual paper map to see what getting to Lost Nation might involve. Wandering for 8 or 10 miles on country roads, it looked like. We were not under the gun timewise — we were to meet Eamon and Sakura in West Des Moines (they were coming up from Cincinnati, part of their trek from New York to Seattle) — so I did a U-turn and headed up the backroads.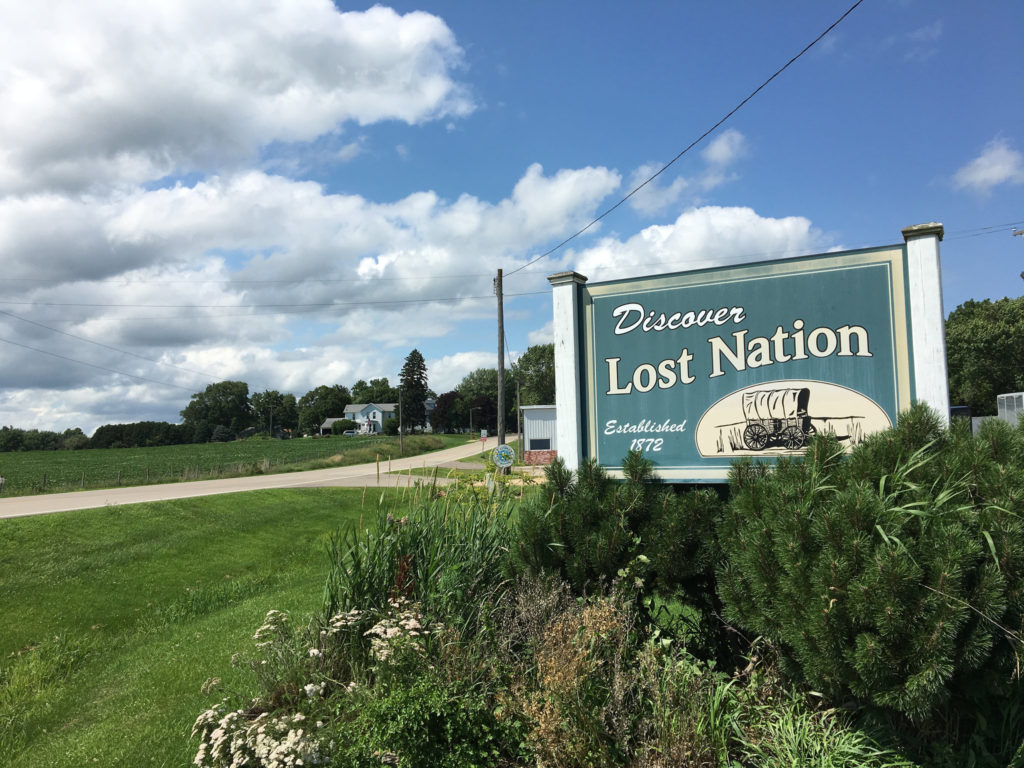 Lost Nation: The best picture would have been of the road signs pointing out the turn, as the town itself (population 400) proved unprepossessing in our 5-minute visit (it bills itself as offering "small city security with big city access). One wonders about the origins of the name, and the stories that have found their way into print suggest both pestilence and a fanciful-sounding Native American tale as the source.
Me, my expectations tend toward pestilence or worse. Not too far down the road, we passed a sign saying, "Limited government under God: Vote Republican."
We stopped to see what locals advertise as the world's biggest wooden nickel, just outside Iowa City. After that, we got on Interstate 80 for the rest of the trip west. Eamon and Sakura got to the hotel nearly at the same moment we did (they would have beaten us, but stopped by the Iowa state capitol building on the way). Then dinner. Then back to our hotel, the Sheraton, and back on the road early in the morning.