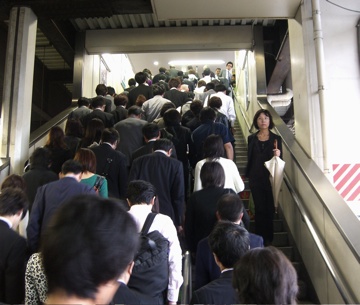 Our last day in Tokyo on this trip. It's a city reputed to have a daytime population of 30 million as people come in on the network of trains and subways to work. The packing you've heard about on Tokyo commuter trains is one effect of the rush into the city. In the evening, the crowd ebbs a bit more slowly. Lots of people stay in the city late, dining and drinking with workmates or friends. The next morning, the tide flows in again. That's old news, but it's still captivating to see firsthand.
The trains, whether you're talking about the superfast long-distance lines like the Shinkansen or the most humble local, are stunning for their speed, efficiency, convenience and cleanliness. I've never seen anything that comes close in the United States–though that's entirely for lack of trying. What the Japanese do with railroads requires a lot of money and a sort of infrastructure context–because the highway network is relatively undeveloped, you wouldn't want to try a casual 200-mile drive anywhere unless you have a lot of time to burn. Back home, we spend more and more grudgingly on public works projects, but you can be sure that the money that's out there will go to highways first and to every other mode of moving people second.
Again, old news. I'll leave the Tokyo chapter with this advice: If you can, go with one of your kids–preferably after they've studied Japanese, married a local, lived in the city for a couple of years and have become fluent in the language. That way, you don't have to worry about details like navigating on your own. In all seriousness, Eamon and Sakura have been the best guides we could have had. In fact, I feel like I missed out on the obligatory foreign-visitor anxiety.
Tonight, we're in Tsukuba, a small city (by Japanese standards) about 50 miles north of Tokyo and at the end of a brand-new commuter rail line. Tomorrow we head up into the mountains north of here to the hot springs resort of Nikko. And then somewhere in the next two or three days, I guess we get back on a plane and fly to San Francisco. Not sure how much I'll get to post between now and then. I'll catch up on one side of the ocean or the other.
[Pictures (click for larger versions): Above: Up to JR platform at Kanda Station, downtown Tokyo. Below: Notice designating train car as "women only" during the morning commute–a measure taken to give female passengers a way of avoiding groping male riders. Bottom: As seen from Hijiri Bridge, trains cross the Kanda River at Ochanomizu Station.]