Ancient advice

Athena — "clear-eyed," "her eyes glinting," "brimming with indignation," and in disguise — to Telemachus at the opening of "The Odyssey":
"For you,

I have some good advice, if only you will accept it.

Fit out a ship with twenty oars,, the best in sight,

sail in quest of news of your long-lost father.

Someone may well tell you something

or you may catch a rumor straight from Zeus,

rumor that carries news to men like nothing else. …

Now, if you hear your father's alive and heading home,

hard-pressed as you are, brave out one more year.

If you hear he's dead, no longer among the living,

then back you come to the native land you love,

raise his grave-mound, build his honors high

with the full funeral rites that he deserves–

and give your mother to another husband.
"Then,

once you've sealed those matters, seen them through,

think hard, reach down deep in your heart and soul

for a way to kill these suitors in your house,

by stealth or in open combat. …"
— From the Robert Fagles translation (and for bonus points, the transcript of a 1997 Fagles interview on the PBS "NewsHour")
Go Bears
"There's an old folk saying, 'Life's a dream; please don't wake me up.' That's how I feel about my life, my years at Berkeley. When I hear UC Berkeley denounced for lawlessness, debauchery, free thinking, subversion, harboring communists and radicals, exposing students to radical ideas— whenever I hear those charges made, that's when you'll hear me, wherever I am, shout: Go Bears!"
–Leon Litwack, UC Berkeley history professor, upon retiring from teaching last spring (and for bonus points, the alumni magazine, California, carried a couple nice pieces on Litwack this fall: one on his career and final lecture, one from a former student).
Book I Want Got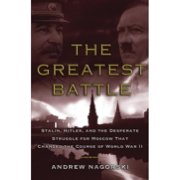 "The Greatest Battle." A friend of ours once had a job that required him to travel to Moscow several times. He recalled a remarkable sight on the road into the city from the airport: a monument-sized tank trap, built to commemorate the Red Army's last-ditch defense of the capital against Hitler's army in World War II. The battle's denouement is a martial epic, with the invaders on the city's outskirts, below-zero temperatures, and a fierce counterattack by troops rushed thousands of miles from Siberia. I heard the author of the book on NPR today. He got access to Soviet sources, both documentary and human, that were off-limits to western historians until recently.