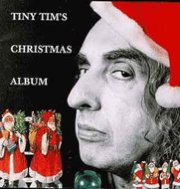 (Set in motion by the Beancounter):
The problem with declaring an all-time music list, let alone a Christmas-themed one, is that I just don't know that much music. Not compared to anyone else I know, certainly. But not knowing a lot about something doesn't stop me from proceeding on my self-appointed rounds. Here goes (and if you've got suggestions, add 'em). In no particular order, and without explanation except where I've been overcome by the usual urge.
"Merry Christmas Baby," Otis Redding (on "The Original Soul Christmas").

"What Are You Doing New Year's Eve?" King Curtis (on "The Original Soul Christmas").

"The Wexford Carol," Nanci Griffith (on the Chieftains' "The Bells of Dublin").

"Christmas Must Be Tonight," The Band (on "Islands").

"Christmas in Prison," John Prine (on "A John Prine Christmas").

"Oh, What a Beautiful City," Pete Seeger (on "Traditional Christmas Carols").

"Cherry Tree Carol," Joan Baez (on "Joan Baez, Vol. 2").

"Children Go Where I Send Thee," Loose Ties (a cut, ,and band, I came across on the Tom Rush website).

"Calling All Angels," The Wailin' Jennies (good luck finding this one; they played it on "Prairie Home Companion" earlier this year; worth looking up the show and listening just for that song).

"(What's So Funny 'Bout) Peace, Love & Understanding," Nick Lowe.
I'm sure I'll think of more. …
[Yes, and here they are:
"Snow," Jesse Winchester (on "Jesse Winchester").

"The Rebel Jesus," Jackson Browne (on "The Bells of Dublin").

"Three Angels," Bob Dylan (on "New Morning).
[List in progress. … And the image: Thanks, Lydell! It sets just the right tinny, nasal, annoying tone.]