I was out riding late yesterday afternoon — a short loop out a flat route to San Pablo Dam Road, north of Berkeley, then south along the far side of the Berkeley Hills, then back up Wildcat Canyon Road through the hills and home to the flatlands below. Near the top of the 2.7-mile Wildcat climb, I thought I felt a little looseness in my right pedal, but when I really focused on it, nothing really seemed amiss. This put me in mind of an April ride out to the Point Reyes LIghthouse, when my left pedal sheared off as I stood up to climb a little hill, and I had a low-speed crash. I started to ponder whether I could have ridden on one pedal back to the nearest town, Point Reyes Station, in time to find a bike shop, get new pedals, and ride the second half of the 188-mile ride I had started. That western end of Sir Francis Drake Boulevard, where my pedal disintegrated, is severely rolling. Obviously I could have walked up the steeper stretches on the way back to town, then coasted the downhills, and propelled myself one-legged on the reasonably level stretches. I'm guessing it's about 15 miles back into Point Reyes Station from the lighthouse. Just idle speculation: It was just after 1 in the afternoon when my bike broke. I'm sure I could have limped back to town in say, three hours. So maybe I could have done it; I probably would have finished the ride at about midnight. Of course, then I wouldn't have seen the two gray whales that cruised by the lighthouse as I waited for Kate to pick me up. And I'm leaving out of the equation the fact my front wheel was trashed when I went down and pretty much unrideable.
Anyway. I stopped at Inspiration Point at the top of Wildcat Canyon to take a look at Mount Diablo and the hills to the north and east in the dusk. The moon was a few nights short of full last night, but very bright, and Mars was rising. Just a beautiful evening. After a couple minutes, I clipped in and started riding back to town; the view of Mount Tam against the still-red sky was striking. After a quarter-mile or so, the road bends to the left and starts descending; as I picked up speed, suddenly my right foot seemed to come unclipped. Weird. I couldn't seem to feel the pedal to clip in again, so I stopped. As soon as I put my right foot down, I could feel that I the pedal body was still clipped to my cleat and shoe. My first thought was that somehow the pedal had worked loose from the crank arm. But when I shone my light on the crank, I could see that the right spindle had sheared off, just the way the left one did in April.
Another cyclist — no lights, no helmet; "Maybe I have a death wish," he said — appeared out of the dark and asked if I needed any help. He took a look at my pedals and said, "Those are shit. Get yourself some Dura-Ace or some Speedplay." "What?" I exclaimed. "Those are Look pedals." It wasn't until later it struck me what a lame response that was. My guess is that, absent some sort of impact that would cause a fracture, this kind of failure should happen approximately never. And I'm not aware of ever having crashed my bike hard enough to damage either of the two pedals that have broken this year.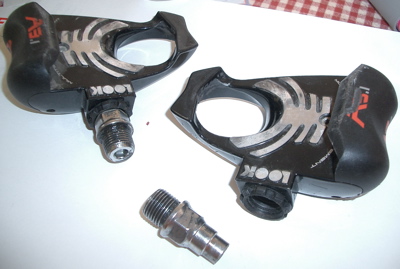 [My intact left pedal and the broken right one.]
Anyway. Five miles from home. One pedal. I had to walk up one little bump of a hill on the way back to Berkeley. The rest was a cruise. But: It hadn't really occurred to me how tough it might be to ride one-legged. There was no way to get up out of the seat for bumps, for instance. And since I was a little out of balance on the bike — I rode most of the way with my right foot on top of my seat post water-bottle cage and my right knee pointing way out to the side — I really didn't feel safe letting myself go too fast; in fact, at speed it seemed unsafe to take my hands off the bars at all. So, to get back to Point Reyes: With a working front wheel I could have made it, probably. But it would have been a different kind of workout, and not much fun.