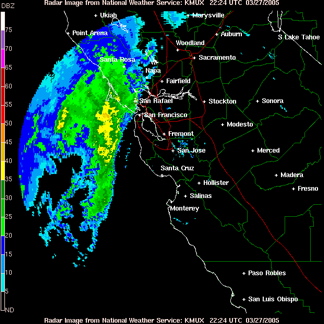 I've been out cycling more this month and last than I have for a while, and a new thought about riding — new for me, I mean — bubbled up while I was going through my usual bout of bike procrastination this morning. Just this: There's a certain story that forms in your head during every ride about the ride. Everything you see and hear and feel, all the conditions, builds into a narrative about the experience. Maybe this is true to some extent of everything we do. But I realized when I started thinking about it that the story is especially focused and intense during a ride.
Today's story: Tired legs after two short-ish but hilly and fairly intense rides Friday and Saturday. I started out with no fixed destination or route or purpose, except to get back home ahead of the storm that was just off the coast. I wound up heading up onto the main road through the Berkeley Hills (Grizzly Peak Boulevard), trying not to push too hard while keeping my pedaling smooth and (for me) reasonably fast. As I chugged along, another cyclist blew by, standing on the long gradual ascent, moving away so fast that it seemed like he was out of sight in about 30 seconds. Over the top of Grizzly Peak –about a 1,500-foot climb from home in about six and a half miles — the winds were picking up. There are big eucalyptus groves up there; you think about them in a high wind — about a branch getting dropped on you, or in the road in front of you, as you ride by. Big banks of dark clouds were blowing in over the Bay; but the Golden Gate Bridge and all of Marin County were still visible, so no rain was falling over there yet.
As long as the storm still had a way to come, I kept on south, onto Skyline Boulevard in Oakland, which rolls up and down a series of little ridges before making a long fast descent — the same place I knocked out my front teeth in 1991 — to a junction with a street that plummets back down to the city. I turned around there and headed back up; cresting the first climb and rounding a curve, I could see that the storm was finally near — a big curtain of rain was sliding across the Mount Tamalpais in Marin.
So now I had a race — could I get back across the hills and down before things got wet? I decided to stay on the top of the ridge as long as I could because turning that earlier six-and-a-half mile climb into a descent is a local riding highlight for me. Every time I came to a road where I could bail out and head down from the hills, I decided I could still make it. So I wound up riding north to Kensington, taking the narrow and precipitous streets that drop down to another major hills boulevard called The Arlington (yes, "the). The Berkeley portion has just been repaved; the downhill stretch from Kensignton is like a raceway; a Subaru Outback passed me, even though I was going faster than the speed limit, and I managed to draft behind it most of the way down; possibly foolish, but definitely fun. The first rain started to fall when I was about four blocks from home.