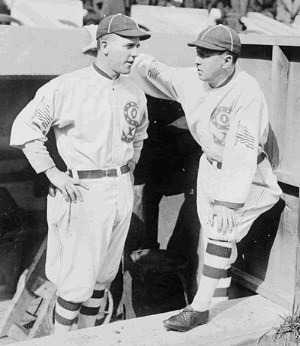 The last time a Chicago team won three straight in a World Series before last night was 1907, when the Cubs swept the Tigers 4-zip in a five-game set (you could look it up). If the White Sox go on to win the championship — take nothing for granted, sports fans — the name of manager Ozzie Guillen will be forever joined to that of Pants Rowland.
Sox cognoscenti — Lydell, I expect that's you — will recognize the name of the South Side nine's last title-winning manager. First, this is just more proof of the oft-lamented fact that the quality and color of baseball nicknames is in a sad state of decline. The '17 Sox were loaded, moniker-wise. In addition to Pants, they had Shoeless Joe, Shano, Buck, Happy, Chick, Nemo, Swede, Ziggy, Birdie, Lefty, Red, Reb, and Knuckles. This year: Hmmm. They've got El Duque. And The (Non-Playing) Big Hurt. Other than that, a bunch of Dustins, A.J.s, Scotts and Jermaines — though mixed with non-nickname handles like Timo, Tadahito, Pablo and Raul that would never have been on a 1917 big league roster.
But let's get back to Pants. According to one online account, the tag dated from his Iowa boyhood: "Rowland started in baseball at age nine, where he earned his nickname, 'pants,' from base-running antics while wearing his father's overalls at games of the Dubuque Ninth Street Blues." Eventually, he became a minor league manager in Peoria. Then, perhaps because his services came cheap, a quality highly valued by Sox owner Charles Comiskey, he wound up in Chicago for four years; he was bounced a year after winning the Series. After that, he became an American League umpire and later president of the Pacific Coast League. Given the high quality of PCL talent and the rapid growth of the league's franchise cities, his dream, apparently, was to establish a new major league on the coast.
He died in 1969, age 91, in Chicago. This Associated Press obit from The New York Times has the story. Both the subject and the way it's handled are throwbacks.
(Photo above: Sox hurler Eddie "Knuckles" Cicotte, left, and manager Pants Rowland, c. 1915-18. From George Grantham Bain Collection, Library of Congress, Prints & Photographs Division. Reproduction No.: LC-USZ62-133664.)
Technorati Tags: world series