[Reposting from my other blog]
A must-see for the TdF fanatic, or even the mildly curious onlooker: "Vive le Tour," an 18-minute documentary gem by the late French filmmaker Louis Malle. The film (available from Netflix and Amazon, among other purveyors), is a real time capsule, especially for viewers (like re:Cycling) whose Tour exposure dates back only to the 1980s.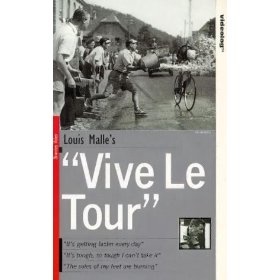 The film depicts moments from the 1962 Tour (won, eventually, by Jacques Anquetil). There's not much of a narrative thread–it's an impressionistic look at the race, the racers, and the spectators. The riders' appearance is striking: they seem old, haggard, and rather beat-up looking compared to the riders we're used to seeing. In fact, one is reminded of pictures of baseball players in the major leagues' alleged golden ages: these guys look like working stiffs who are riding as much to make a living as for the competition or some higher "sporting" values.
The shots of the route, the fans, the preceding caravan, the motorcycle corps that accompanies the peloton, the mountain roads–it's all familiar stuff, but also quite foreign. You see an older, unpolished France here. The alpine routes look primitive. As wild as the crowds get today, there was even less of an imaginary barrier between them and the competitors: fans are depicted giving racers long, long pushes up the climbs. On the flatlands, the riders are shown stopping for impromptu water breaks and "cafe raids"–the latter involving physically running into cafes and carrying away bottles of water, soft drinks or even beer and champagne. We see a velodrome finish, and a slow, tortuous mountain descent.
The physical difficulty of the race and the toll on the participants is also highlighted. One rider–from his number, it appears to be Italy's Giuseppe Zorzi–is depicted getting back on his bike after passing out and resuming his race. But not for long: he soon slows and topples to the pavement, hors de combat. (Tour references say he quit in stage six.)
But there's one brief segment that offers a striking parallel to the age of Landis, Rasmussen and Vinokourov. There's a scene of a very shaky looking rider–Hans Junkermann of Germany, though he's not named in the film–climbing off his bike and settling disconsolately in a roadside ditch. The voiceover–not sure whose voice–says:
Now let's talk about doping. In cycling slang, doping is called "the charge," and "the charge is killing this profession. Now every time someone quits, he's under suspicion. This racer told us he must have eaten some bad fish. That same day, ten racers quit, and each said he'd eaten bad fish. Contrary to popular belief, doping doesn't give you extra strength. It simply suppresses the pain. The doped-up athlete no longer knows his limits. He's nothing more than a pedaling machine."
Bad fish. That's one excuse we haven't heard recently. (But here's a little more on the "bad fish" affair of 1962.)
Technorati Tags: cycling, floyd landis, tour de france