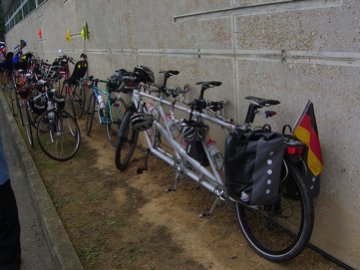 The Paris-Brest-Paris organizers say that about 5,300 riders are signed up for the four-day trek. Today was the day the whole crew was supposed to show up to have their bikes "inspected." What that means in practice, based on my 2003 experience, is running each cyclist through a quick check to make sure they have working front and rear lights, spares for each, and the required reflective sash. Nominally the officials, who seem to come from local bike clubs, are supposed to make sure your machine is in good working order. But unless you show up with something obviously awry — a broken crank arm or a missing wheel, say — the inspection is cursory.
Today's inspection was much different from 2003's, though. It rained hard overnight. Since the inspection takes place in the grassy areas around a soccer pitch, the organizers apparently decided to cancel the inspection because it would quickly turn the grounds into a Woodstock-style mire. So everyone expecting to show up and prove they can light their way through northwestern France was just waved in and told to go pick up their ride documents and assorted paraphernalia: the route book and swipe card we must each produce at every checkpoint; number plates to put on our bikes and number stickers for our helmets; another number plate to identify us to the finish line photography service; and a medal awarded for finishing this year's qualifying brevet series — and yeah, the medals are kind of cool.
Even though I've done this before, I felt a little overwhelmed by the sheer numbers of people converging on the gym where the checkin was held. Thousands of people. Thousands of bikes. I'm not big into what I'll call bike porn — leering lustfully at all the amazing and amazingly expensive and amazingly well outfitted bicycles people tend to bring to these events — but you can't help but notice all the beautiful paint jobs, frames by small custom builders, advanced lighting systems and beautifully inventive and/or tasteful racks and bags for carrying all the gear people will have to carry for the next three or four days.
I had a moment — well, it lasted maybe half an hour — in which the thought formed that everyone looked better prepared than me, better fitted out than me, more fit than me. It passed — this riding ain't about the gear as long as you respect the demands of going out on the road for as long as you do on PBP. And that's one thing you probably always have to keep asking yourself — whether you're doing everything you need to do to give yourself a chance of succeeding. I never feel like I really know the answer to that until I'm out there.
The element of uncertainty for PBP 2007 is the weather. In 2003, France was still suffering under its historic heat wave the night before the ride began. A deluge overnight cooled everything down, and the four days of the event were as close to ideal as you might find and certainly better than you'd dare expect. The weather this year is very different: It's wet and cool, and we've seen rain or a good threat of it every day. The forecast, as far as we can see it online, suggests the week ahead will be the same. I met someone the first day I was here who said, "We hope for the best and plan for the worst." Um — sure. But the truth is I never look forward to riding in the rain; and I think everyone here wonders in the back of their mind how they'll like going up and down the roads of Brittany if it really does rain every day. (Pictures from today's check-in here.)
Technorati Tags: cycling, france, paris, pbp, randonneuring