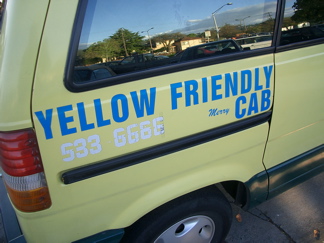 Once upon a time, the cab business here in the East Bay was pretty much like it was in other large-ish urban areas. There were a few large taxi companies whose owners leased cabs to drivers. Most drivers paid "gates and gas" — they bought their own fuel and paid a daily (or nightly) rental fee (hereabouts called the "gate"), and they got to keep whatever they earned in fares and tips above those expenses. Some had a simpler arrangement, splitting both the fares and the fuel expenses with the cab owner. That's the deal I had when I worked for the late, forgotten St. Francis Taxicab Company, which plied the streets of East Oakland in the early 1980s. That arrangement worked out better for the driver on a bad night and better for the owner on a good night.

Over in San Francisco, always viewed as cabbie Shangri La by often-idle East Bay drivers, big companies or co-ops are still the rule. The East Bay business has evolved, or degenerated, into a sort of free-for-all, with a bunch of independent operators scrambling for an individual share of the crumbs. One result is a proliferation of taxis with similar-sounding names, many involving the word "yellow." (Like all the best ideas, the original Yellow Cab appears to have been one of Chicago's gifts to the world.) The Berkeley telephone book has nearly three pages of agate-type listings, many undoubtedly redundant, for various permutations of "Yellow Cab."
I loved the version spotted above, parked in a long queue at the North Berkeley BART station. It's not just Yellow. It's Friendly. And Merry.