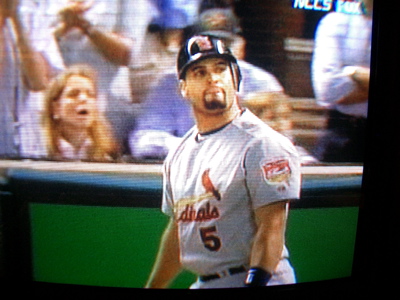 At the end of a truly crummy day, Kate and I watched the finish of the Cardinals-Astros game. The Cards were down two runs with two out in the ninth and no one on when Fox flashed a graphic for Game 1 of the World Series on Saturday in Chicago. Looking out at the TV from the kitchen, I thought the graphic depicted the Astros logo alongside the White Sox logo.
"Jinx," I said. "They jinxed it. The Cardinals are going to win this one now."
David Eckstein, the Cards' shortstop and Little League lookalike, fought off a pitch from Astros' closer Brad Lidge and rolled a single into left.
"See," I said. I was thinking of Game 6 of the '86 World Series, when Gary Carter came up for the Mets in top of the 9th and the Red Sox an out away from their first title since 1918. Kate was a Mets fan and was sad to see her team about to lose. We were watching at our friends Larry and Ursula's house in the Sacramento suburbs. "Not over," I told Kate. Carter lined a single to center, and the game and the Series turned out not to be over.
Jim Edmonds batted for the Cards and walked. Two on. Albert Pujols coming up. But still, the odds for the Astros: Their nearly unhittable closer on the mound. An out away from winning. The run that could kill them in the batter's box. A threat, but more potential than imminent.
Pujols swung and missed a breaking ball low and outside. The next pitch stayed up and over the middle of the plate. When Pujols hit it, everyone knew. A replay showed Astros' starter Andy Pettite jerking his head to follow the flight of the ball. You could read his lips: "Oh, my gosh."
What I like best about crowd photography — sporting events, political rallies, concerts — is to search the faces of the extras, the people watching people launch the winning shot or make the speech or sing the aria, for the hopes and expectations and foreknowledge and fears there. During a replay of the Pujols home run, which turned out to win the game, Kate pointed out the woman in left of the frame. She'd had two or three seconds to take in what just happened. In an instant, she gets more dramatic and puts her hands on her head. For now, she's just shocked.