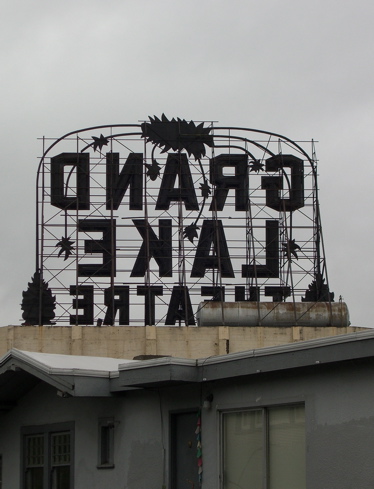 Here in the Bay Area, I left work early and went with Kate, who is off school this week, to see a late-afternoon matinee of "Inside Man." It holds up as an entertainment. The show was at the Grand Lake Theatre in Oakland, recently pictured for its marquee broadside on fascism. It's one of the Bay Area's great old movie houses, subdivided, as they all are, a couple decades ago. But still beautiful in a way the old movie palaces are and still impressive for its outsize scale. We caught sight of it in the rain after parking on a hillside a couple short blocks away: its magnificent (and still operational) old sign backwards and stark. Afterwards, we thought about where we might be able to eat dinner and look out on the Bay while the rain fell. Kate came up with a true inspiration: The Dead Fish, a place in Crockett, about 20 miles north of Oakland overlooking the Carquinez Strait, the place where all the water from the Sacramento and San Joaquin rivers, and all the tributaries and reservoirs and mountains beyond, spills out into the Bay. We couldn't get a window table in the restaurant, but we found one in the lounge and had dinner gazing out on the channel and on the bridges that carry Interstate 80 across the water. Then we drove back to Berkeley.
In Chicago, I hear it was the kind of April day that belies the lack of greenery on the Wrigley Field vines (saw them on a baseball highlights reel this evening). It was 53 years ago today that Mom and Dad were married down at St. Kilian's, 87th and May streets, just four blocks from where Mom grew up. Not everyone in the Irish Catholic parish — notably its pastor — was too thrilled at the idea of one of the children who'd grown up coming to his church and school marrying an outsider — that is, a Norwegian Lutheran. But there's no accounting for affairs of the heart, and everyone got over the mixed marriage they bore witness to that day. Today, Dad drove down from his place on the Northwest Side to Mom's grave and left a spring bouquet — artificial flowers, but they'll last (I've never seen Mom's place down there without something, something she would have liked, to mark the spot). He stopped for a couple of White Castle hamburgers on the way back north.
Later, we talked on the phone about the cemetery and White Castle a little and a lot more about old movie houses, which Mom loved. The Cosmo, which I'm guessing was short for Cosmopolitan, in particular. I know it was air-conditioned in the summer and that the double bills changed twice a week. I don't know whether it had much of a sign, but Dad's guess is that the its gone now.
Technorati Tags: berkeley, california, chicago, rain, weather