A quick album of a quick trip back and forth across the San Joaquin Valley to someplace much higher up.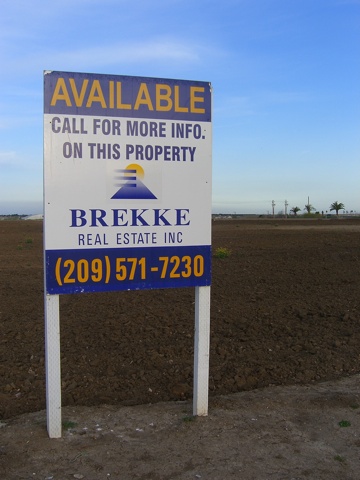 On the outskirts of Patterson, California, a town on the western edge of the San Joaquin Valley about 75 miles southeast of Berkeley as the crow flies (or about 100 miles as the Dodge Grand Caravan drives). Kate spotted the sign as we were pulling out of a fast-food and gasoline mall along Interstate 5. The only place I've seen my family name on a sign before was North Dakota (on a Hallmark shop in Grafton and on a travel agency in Grand Forks that's nationally known for its tours of Norway). Just in passing: The Patterson city website, which notes the burg is known as "The Apricot Capital of the World," says the town had 11,000 people in the 2000 Census. The signs entering town now say 20,000-some. Big swaths of big new homes have appeared on the western fringe of the city; in fact, driving into town, the border between what we were calling "new Patterson" and "old Patterson" (with downtown eateries like Hank's Harley's Grub Shack) is pronounced.
More about the excursion tomorrow.
Technorati Tags: california, interstate 5, travel