We went out today to investigate Sand Creek Road, a squiggle on the map that runs from the upper end of the Capay Valley east and north across the last ridges of the coastal mountain ranges, finally dropping into the Sacramento Valley near a little farm and ranch town called Arbuckle. I was curious to see if the road was paved all the way; I was pretty sure it wasn't, and I was right. On the right kind of bike–one with big tires that could handle the gravel and rocks and dirt and stream crossings and washboard–crossing from the Capay to the Sacramento side would be a memorable ride.
As it was, it made a memorable drive: We took Interstate 80 to Vacaville, then hit I-505 going north and got off at Putah Creek Road just outside Winters. From there, north on the Yolo County farm roads until we hit Highway 16. Then into the Capay Valley, past the gigantic Indian casino–a little slice of Vegas right in the middle of one of the state's most beautiful landscapes–then up to the village of Rumsey, where you turn off at a sign that says Road 41, cross a substantial bridge, and Immediately find yourself on a one-lane road that goes from asphalt to dirt after the first mile.
You climb through chapparal and scrub pine to the top of a ridge that gives a sweeping view of the Capay country. Then you cross into what I'd describe as a sort of live oak plateau, cross a divide, and parallel a creek (Sand Creek, I guess) that descends into the Sacramento Valley. There are signs of ranching, and lots of hunting club signs telling you to keep off the land on either side of the road. Eventually you pass a couple of ranches, find the pavement again, and drop to the end of road, up a long, gradual slope east of Arbuckle.
After a quick turn through town, we stayed on county roads all the way back to Winters–paralleling I-5 for a while, then cutting back through the hills west and south of Dunnigan on ranch and farm roads. Dinner was at In 'n' Out Burger in Vacaville, then home on I-80. (The pictures: They're here.)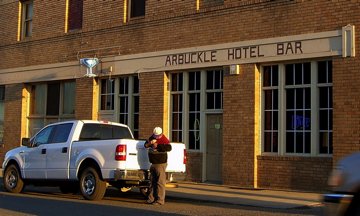 Technorati Tags: california, travel